Haematococcus pluvialis Powder
Botanical Source: Haematococcus pluvialis
Appearance: Purple-red Powder
CAS No.: 472-61-7
Specification:
Astaxanthin Powder 3%4% 5% HPLC 5%UV
Astaxanthin Microencapsulation Powder 2% HPLC
Astaxanthin Oleoresin oil 5% 10% HPLC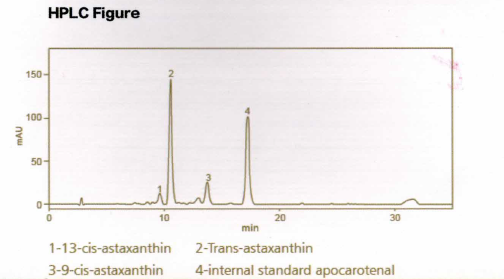 Description:
Astaxanthin, a naturally occurring carotenoid pigment, is a powerful biological antioxidant. Astaxanthin exhibits strong free radical scavenging activity and protects against lipid peroxidation and oxidative damage of LDL-cholesterol, cell membranes, cells, and tissues. Astaxanthin has been the focus of a large and growing number of peer-reviewed scientific publications.
Main Function:
Immune response;
Resistance to disease
Reproductive behavior
Improved protection against oxidation and photo-oxidation
Reproduction and development